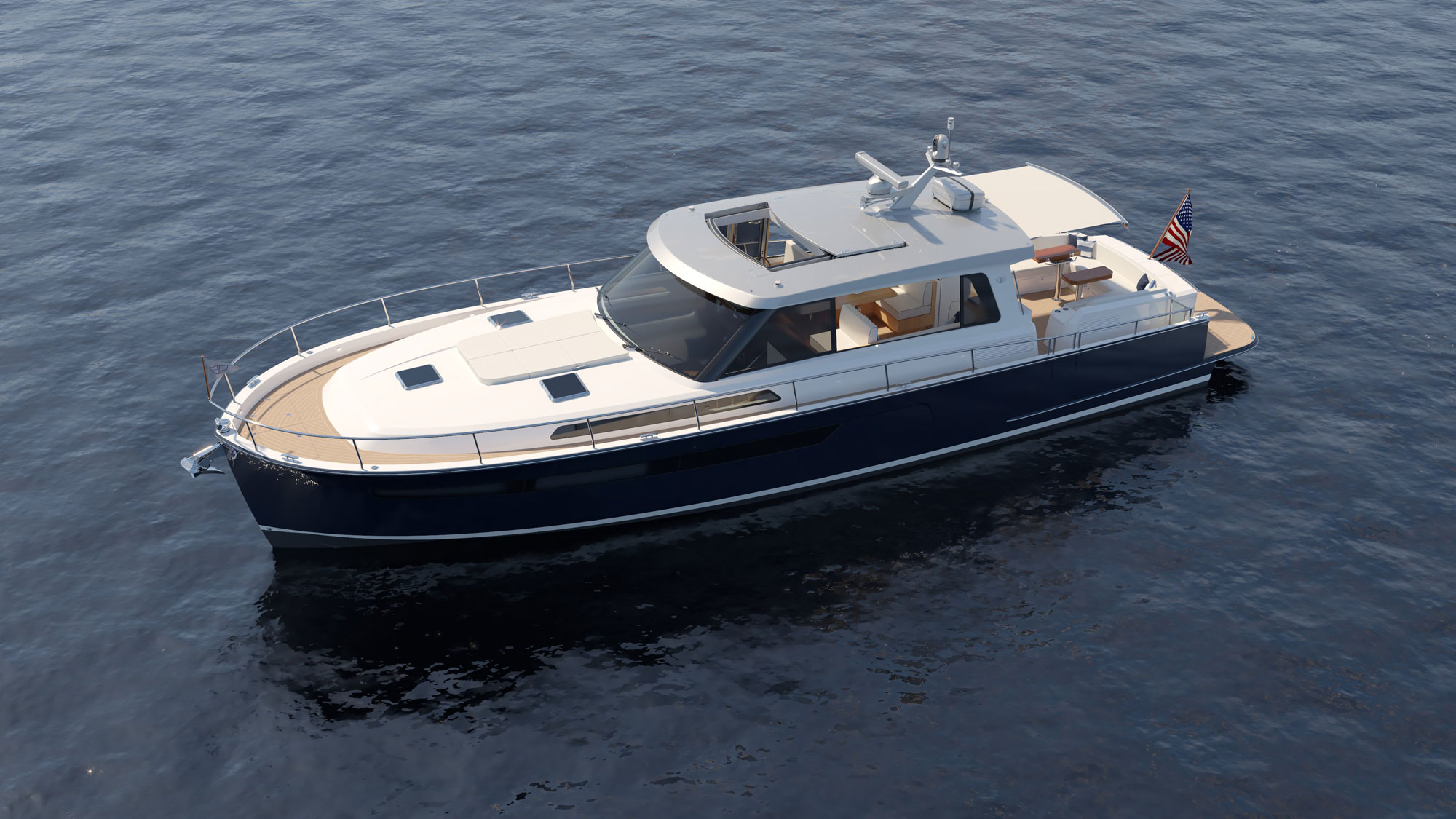 BOSTON BOATWORKS TO LAUNCH NEW BB52 OFFSHORE EXPRESS CRUISER
Twenty-seven years after Boston Boatworks launched its first high-performance, technology-forward racing sailboat, the company announces the development of the Boston Boatworks 52 Offshore Express Cruiser (BB52). As exciting as this new model is for the entire team, the genesis of the yacht stays true to the company's original objectives of integrating composite engineering, high-strength construction, and artisanal workmanship, scaled to limited-production efficiencies. For the BB52, the builder partnered with venerable yacht designer Doug Zurn and renowned interior design firm Winch Design.
While the industry has long known Boston Boatworks for their construction expertise—building over 350 advanced composite performance yachts, including MJMs and grand-prix racing sailboats, as well as expedition tenders and Coast Guard Certified passenger vessels—this will be the company's first model that fully represents their vision and passion for providing owner-operators a high-quality offshore yacht. As one might expect, the excitement around the BB52 is heating up.
"The BB52 embodies our 27 years of experience building the best high-performing offshore yachts, with some of the world's most knowledgeable and avid boaters," said Scott Smith, Boston Boatworks CEO and founder. "This is the boat we've always wanted to build, for the dedicated express cruiser owner-operator that we know best. The fit, finish and functionality included in our inaugural offering reflect everything we've developed from building over 350 boats, and we have concentrated the best solutions into one design to call our own."
The 57-foot LOA express cruiser takes advantage of Boston Boatworks' efficiencies as a limited-run manufacturer of series yachts, softening the lines between a production boat and a semi-custom project—with prospective owners able to choose from several selections of interior configurations and finishes developed by Winch Design that cater to a wide range of functions, all of which incorporate a multitude of elegant and clever features to enhance the time on board.  
"We are excited to work together with the team at Boston Boatworks and Zurn Yacht Design on our very first American offshore cruiser," said Joost Roes of London-based Winch Design. "As a brand that is all about lifestyle, we are delighted to be involved in a project that resonates with us and our clients. In every design we create, we strive to create a comfortable home on the water. A client should step on board and feel the harmony between interior and exterior, experiencing a high level of comfort and build quality. The BB52 achieves all that—and more."
The BB52 continues the long-standing collaboration between Boston Boatworks and Doug Zurn, of Zurn Yacht Design. "The BB52 is the culmination of years of experience building lightweight, efficiently driven powerboats combined with contemporary, timeless styling to appeal to discriminating yachtsmen," says Zurn. "Having worked with Scott and the talented shipwrights and engineers at Boston Boatworks for the past 20-plus years, in numerous capacities, I can say our working relationship is like no other."
The BB52 is for owners who appreciate a relentless pursuit of quality—those who understand why the entire build needs to be strong to be safe; who recognize that lighter-weight interiors yield spatial and fuel efficiencies; who demand that the boat's handling be intuitive; and who take shameless pride in the athletic look of their vessel and the gracefulness of its interior.
By combining Boston Boatworks' industry-leading construction, Doug Zurn's renowned design expertise, and Winch Designs' uncompromising standards of interior design, the BB52 Offshore Express Cruiser is poised to quickly earn its place among the best yachts afloat.